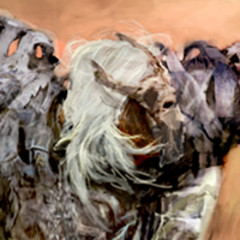 Marko Markovic
krentman@gmail.com
Casablanca, Central African Republic
Summary
"Although I had drawn all my life, I didn't embrace my passion to paint in oil until 2002. I grew up in one of the countless suburbs of Belgrade near Marinkova Shore where I found people not afraid to speak their minds "
Marko Markovic has over 10+ years of experience in painting, He steps in traditional media and done number of oils and illustrations also as in different fields of art that consider game n' movie industry. He spent the first 4 years of his career in the comic book industry, working as an illustrator for comic developer and book publisher. Marko subsequently moved from traditional to digital art doing
UI and icons for games as the enthusiast for almost year and providing illustrations, storyboards and commercial art.

Skills
Digital Painting
Environment Design
Character Design
Creature Design
Vehicle Modeling
Software proficiency